Sept 23, 2020
Carso Rosso Winery recently opened in Strongsville. Bullseye Activewear partnered with Carso Rosso to produce several different items for their grand opening and beyond. Bullseye designed and printed shirts and aprons for Carso Rosso's staff. Tank tops and shirts were also created and available for purchase in the Carso Rosso retail shop. In addition to wearables, Bullseye branded custom stemless wine glasses that will be used to serve wine slushies. Carso Rosso is also selling these unique, insulated, stemless glasses inside their retail store.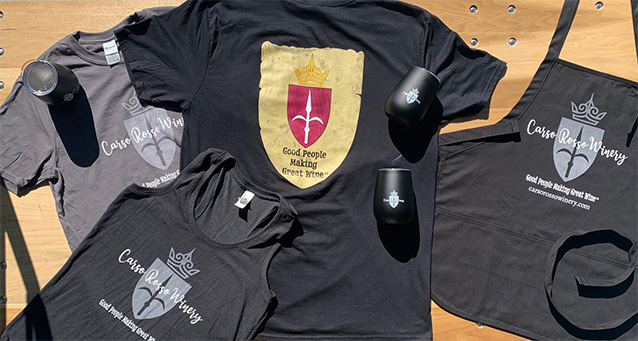 Bullseye Activewear worked closely with the owners of the winery to ensure that their colors and logo were printed to follow their brand standards. Bullseye's design team helped develop a one-color version of the Carso Rosso logo for use on the aprons, promotional give away shirts and the insulated wine glasses. The new one-color logo design is versatile and reduces printing costs compared to multi-color printing.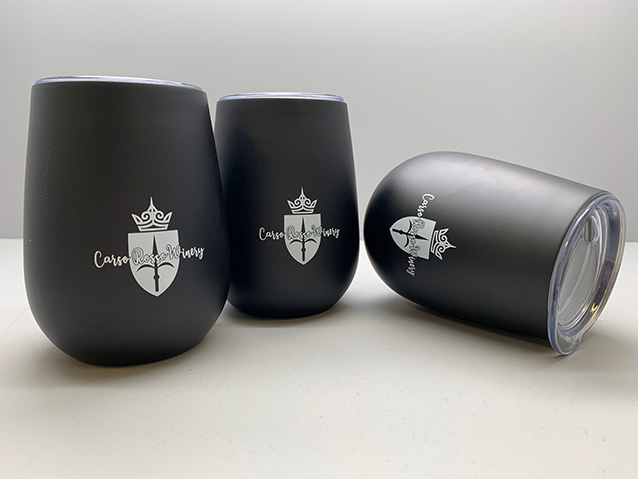 Carso Rosso is in Strongsville at 19583 Hunt Road and they regularly feature live music on the patio. Be sure to check out their Facebook page for their full entertainment calendar. Carso Ross Winery was established on the premise of embracing Ohio's vibrant wine community and becoming a contributing member of its overall success. The mission of the winery is good people making great wine™. The amazing individuals we have met throughout our journey have not only be supportive; but shared their wisdom in creating the art we are proud to pour into your glass every day. As for the name Carso Rosso, order a glass of one of our full-bodied wines and they will be happy to share the story!