March 3, 2023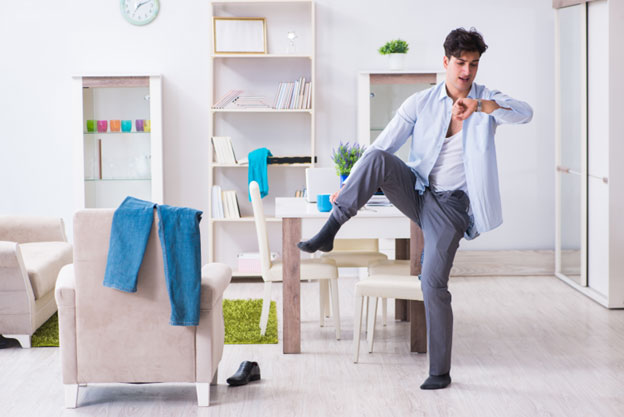 Without Trying to Fix the Procrastinator!
Does this sound familiar? You are trying to hit a deadline, for uniforms, employee logo shirts, branded customer giveaways, etc. But you're running late. Now there is a backup, or supply is low. Shipping is backed up, or the color is wrong.
Don't blame yourself. Procrastination is human nature.
We all procrastinate. For instance... Christmas is always December 25th. Yet, we put things off, and then rush. Sure, it would be easier if we planned further ahead, but we don't.
So, let's not try to fix human nature. Instead, let's embrace it. Here are some simple tips to keep in mind even if you are late. These tips will help to ensure your branded merchandise will arrive right, and right on time … even if you aren't.
Tip #1: See the merchandise first
Returns take time. It's hard to judge quality online, so do business locally where you can see and feel what you're getting. Find a local provider who can show you what you are buying. After all, your customers and employees will be wearing it, and thinking of you when they do!
Tip #2: Review the proof
When you pick a product and send a logo file for printing or embroidery, you may think the job is done. But if your provider isn't a stickler to detail, lots can go wrong. Placement, front or back, sizes … lots of moving parts. Seeing a proof before the work gets finished is crucial to catching mistakes early.
Tip #3: Stay Local
It may seem faster to fill out a form online, upload your logo and click send. But that can lead to mistakes, poor quality, and hassle. When you have a local provider that you trust, keep that relationship alive. Give a call or stop in and ask for help on your next rush job. You'll both be glad you did.
Bottom line:
Don't panic. Do business the right way, without shortcuts, and without compromise. When you do things right, the right things happen … even when you do them late.
Bullseye Activewear and Promotions has been generating the finest quality sportswear and merchandise for local businesses since 1992. We serve quality local businesses with quality products and exceptional customer service. Call Jim and Susan Heiser today at (330) 220-1720 about your next important branded merchandise project.