Strongsville Ohio Printers
Bullseye Activewear & Promotions: Your Full-Service Screen Printer
Bullseye Activewear was created by Jim and Susan Heiser over 25 years ago. When Jim started Bullseye, he wanted to be known for excellent printing and as an expert in branding and marketing through promotional goods. This is where the tagline "Think It, Print It, Stitch It" began.
Not Another Fast Food Printing Company!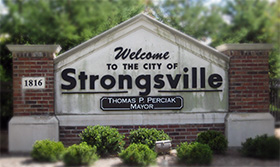 When you choose Bullseye Activewear you can rest assured you're choosing a printing company that will provide the highest level of personal service. Part of the personal service that Bullseye provides will include advice on the actual garment you should choose to print on. Bullseye has relationships with the best suppliers and offers garments from well-known brands such as:
Adidas
Carthartt
Champion
Cutter & Buck
Dickies
Eddie Bauer
Nike Dri-Fit & Nike Golf
North Face
Ogio
Under Armour
& more!!!
The staff at Bullseye Activewear will collaborate with you to create custom printed products that reinforce the core values of your brand while being exciting to use and wear. Whether you are looking for custom printed functional items like safety gear or promotional products such a fun t-shirts or backpacks, Bullseye Activewear is here to help!
Strongsville Printing Gallery
Bullseye's Commitment to Screen Printing Technology
To provide customers with the best goods for the best price in the shortest amount of time, Bullseye has shown a continual commitment to investing their machinery and their facility. This is cornerstone belief of Bullseye Activewear and a big reason why the company has been relied on by household names such as Vitamix, The Cleveland Cavaliers, The Cleveland Indians, Sherwin Williams and more.
Recently Bullseye completed an addition to their headquarters just 15 minutes south of Strongsville. The expansion of over 4,000 square feet provides Bullseye with a dedicated area for vehicle decaling and more. Through the facility expansion, Bullseye was able to double the amount of equipment in their screen exposure, drying and storage areas. A state-of-the-art filtration system was installed in the new part of the facility that helps protect the environment. Overall the new area allows Bullseye to be more productive and more efficient which results in lower costs for you, the customer!
Bullseye uses American Made, M&R equipment for their screen printing along with Newman Roller Screens and a Newman Roller Screen Stretching Table. The Newman products allow Bullseye to achieve the highest level of detail in screen printing and consistency from item to item.
At the 2020 Impressions Expo, Bullseye explored implementing folding and bagging equipment to enhance their already highly productive printing department. Look for more exciting additions to Bullseye soon!
Serving Strongsville Ohio
Located just 15 minutes south of Strongsville, Bullseye Activewear's headquarters are conveniently located off I-71 and not far from I-77 or the Ohio Turnpike. If you are in the area stop by, tour the facility and grab some ice cream in Bullseye's 50's style ice cream parlor!
Active in Strongsville and The Greater Cleveland Community
Bullseye Activewear are members of the Strongsville Chamber of Commerce and participate in many local charitable initiatives such as The Meadows Turkey Bowl, Laura's Home, Strongsville Soccer Organization, The Boy Scouts of America, Wigs for Kids and more.
---
Bullseye's Printing Process
1. The Design
Bullseye has professional graphic designers on staff who will consult with you on the creative aspects of your design. They will also go over all the technical details to make sure the artwork sized appropriately and is in the proper file type. Bullseye's designers will also help you select spot colors for your printing project if you do not already have those defined. Once your artwork has been finalized, you will be sent a digital proof.
2. Garment Selection
Bullseye offers the highest quality, t-shirts, hoodies, sweatshirts, tank tops, polos from popular brands. Soft garments are in high demand and the staff at Bullseye will help you select the perfect item for your project.
Screen Printing Starts!
3. Designs Printed to Film
During this process the screen printing staff creates a film transparency for each spot color in your design. You don't have to worry about a thing, sit back and have a cup of coffee while we take care of the rest!
4. Screening Process
Screen Exposure, also known as burning a screen, is where we place the screen on glass against a photo sensitive emulsion. This is where the magic happens. The exposure unit then uses light to expose the areas of the screen that ink will fill to create your graphic. After this process is complete the screens will be washed and dried.
5. Start Printing!
During this step the garment will be placed on the appropriate pallet of the printing mechanism. Each screen will be printed in order to achieve proper color. Once all the ink is applied the garment will placed into a conveyor dryer to for proper curing.
After this the project is packed and delivered to you to start enjoying!
Popular Custom Products for 2020:
Branded Wireless Speakers, USB Hubs & Rechargeable Earbuds
Screen Printed T-Shirts & Polos
Screen Printed Fleece & Hoodies
Screen Printed Team Uniforms & Uniform Numbers
Screen Printed Jackets
Screen Printed Travel Bags & Back Packs