July 15, 2020
Bullseye Activewear is now printing custom bandanas in addition to our custom masks! Trades workers and those participating in outside events can wear these around their necks and pull them up to double as a face covering when needed. They are also great as giveaways for the summer!
In addition to logos, taglines and website information, Bullseye is printing custom symbols associated with your brand in each bandana to create unique borders or step and repeat patterns. Bullseye can create a custom paisley pattern using symbols unique to your brand or organization.
Look at our Bullseye Activewear bandana as an example of the creativity that can be applied to your design: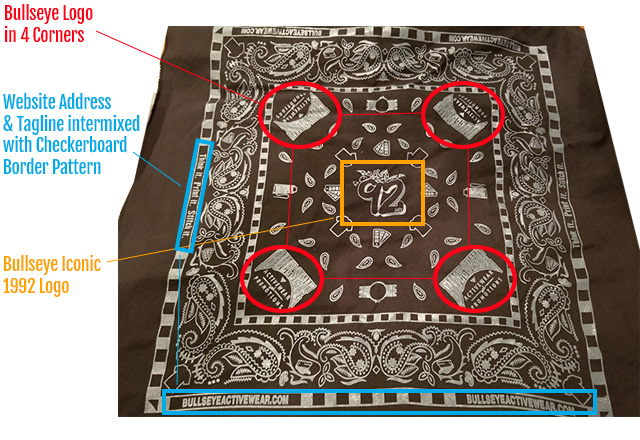 Hidden throughout the pattern we have unique symbols that are used in the production of our printed and embroidered apparel. Look closely at the print and see if you can find the shapes hidden in the design and pattern.
The personalized bandanas are 100% polyester and made in Canada. They are light weight, have a sewn edge and wash and wear well. The bandanas can be designed to your exact specifications. Multiple color options are available. The manufactured size is approximately 21" x 21" and Bullseye prints a 17" image on the finished bandana. The minimum order is 100 pieces per bandana color and design.
Keep an eye on Bullseye Activewear's facebook page for an upcoming contest related to bandana printing where you can win a Bullseye cooler bag, custom Heartland t-shirt or American flag socks.